Oxigen Masters Champions League is a special twenty20 tournament which brings cricket legends all together on same platform once again. The first MCL edition is being played in Duabi and Sharjah in which six teams are contesting to become champion of the competition.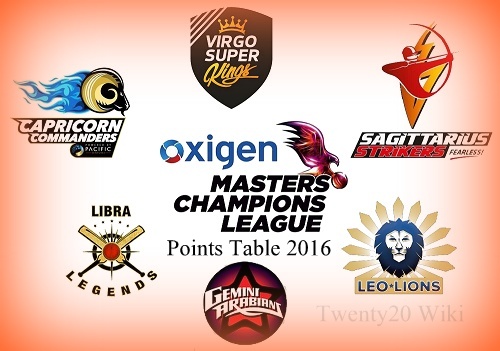 A total of 15 matches will be played during the first stage of Masters Champions League 2016 and top 4 teams will make it through to the semi-finals of competition which are scheduled to play on 11 and 12 February. These four teams will be determined from their position in the points table.
Let's have a look at the points table for MCL 2016.
MCL 2016 Points Table
| | | | | | | |
| --- | --- | --- | --- | --- | --- | --- |
| Team | Match | Won | Lost | No Result/Draw | Points | Net RR |
| Gemini Arabians | 5 | 5 | 0 | 0 | 10 | 1.41 |
| Leo Lions | 5 | 3 | 2 | 0 | 6 | 0.20 |
| Virgo Super Kings | 5 | 3 | 2 | 0 | 6 | -0.28 |
| Sagittarius Strikers | 5 | 2 | 3 | 0 | 4 | 0.71 |
| Capricorn Commanders | 5 | 2 | 3 | 0 | 4 | -0.16 |
| Libra Legends | 5 | 0 | 5 | 0 | 0 | -1.95 |