Libra Legends have appointed icon player Sourav Ganguly as the captain of team for Oxigen Masters Champions League. Former Indian captain Sourav Ganguly played 113 tests and 311 ODIs for national team.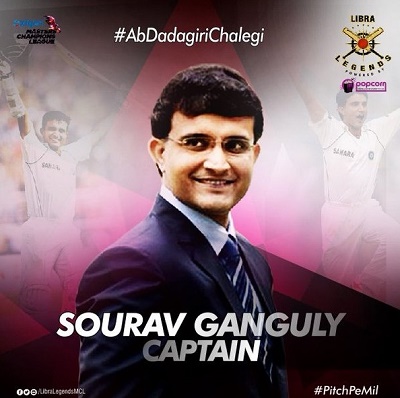 When franchise was announced back in November 2015, Libra Legends co-owner Pooja Jhunjhunwala said, "We are happy to announce Sourav Ganguly as a member of our team. We are privileged to have such a player like him in our side. We wish to give quality entertainment to the fans through this league."
Libra Legends have got some fantastic players for the first season of MCL 2020. Along with Sourav, former South Africa cricketer Jacques Kallis, Australia's Shaun Tait and Brad Hogg, English batsman Michael Lumb and bowler Graeme Swann will be seen playing for team Libra.
Sourav Ganguly will be up against former Indian opener Virender Sehwag in the inaugural match of Masters Champions League 2016 as Viru was named the captain of Gemini Arabians. The match will be played between Libra Legends and Gemini Arabians on 28 January in Dubai.